Returning to Homebrew Competitions
Tuesday, July 6th, 2021
Homebrewing as a Hobby Series
by Jim Vondracek
In the last year-and-a-half, the pandemic and all its repercussions impacted all of us. For me, as a homebrewer and BJCP (Beer Judge Certification Program) judge, the loss of competitions hit me unexpectedly hard. I aim to volunteer as a judge in about 15 competitions a year and found that I sorely missed those opportunities. Prior to the pandemic, I last judged at a competition in March 2020, at the IBU Open in Des Moines.
Last week, in a remarkable coincidence, the first post-pandemic competition I judged at in-person was also the IBU Open, the 2021 version! I cannot overstate how great it was to be back with other homebrewers, tasting and evaluating beers. I enjoy that process (and the beers), but perhaps more importantly, homebrewers form a great community and one that I missed. Hanging out for two days with a few dozen other homebrewer-judges lifted my spirit!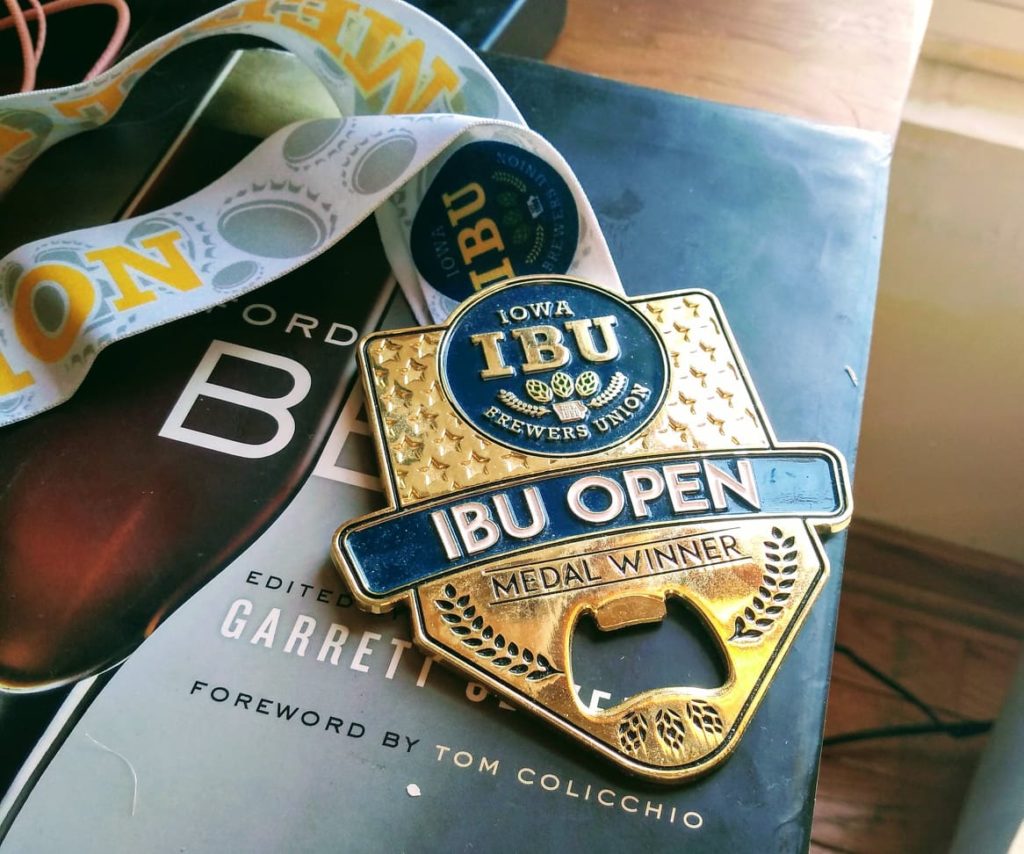 Keeping It in Context
I don't mean to imply that somehow the loss of homebrewing competitions over the past sixteen months amounted to a tragedy. It didn't. The unnecessary Covid-19 death of a friend from my congregation was a tragedy. My 93 year old father-in-law being unable to visit his wife in her nursing home for the last two months of her life because of Covid-19 was heart-wrenching. Her death alone, without family and hastened no doubt by the absence of her husband, was deeply sad.
None of what I'm writing today reaches that level – as a fellow BJCPer said at the beginning of the pandemic, "It's just beer." If you suffered economic hardship, loss of employment, social or family upheaval, isolation, anxiety, sickness or any of the many other serious ways the pandemic hit us, please know that I'm not in any way comparing that to homebrew competitions.
But I did want to share my absolute joy at being back with other homebrewers, at a well-run competition!
What About Virtual Competitions?
I participated in a couple of virtual competitions during the pandemic. I've heard from some judges how much they enjoyed them, but, for me, I found them lacking, and have identified two reasons.
First, I enjoyed connecting with my judge partner via Zoom at a virtual competition. But, overall, virtual competitions lacked the sense of community you get at an in-person competition. At a competition, you sense a community of homebrewers coming together, for an event focused on our hobby. In short, I missed people. Connecting with one fellow homebrewer lacked the impact of being in the room with dozens of them. I missed chatting during the breaks, sharing lunch with other homebrewer judges and chatting about their last beer flight.
Secondly, I don't think the quality of virtual competitions matches in-person competitions. Multiple bottles per entry presents an issue, but I think the quality issue revolves more around focus. It might be particular to me, but I suspect it impacts other judges, also.
One of the key qualities of good judges relates to their ability to focus on the beer in front of them. I think in-person competitions tend to help judges do that. It's an event, you travel to it, you dedicate a day to it, it's a big deal. Judges at in-person competitions work as part of a team of scores of volunteers all making it work together. This encourages you in subtle ways to do a good job, to focus. At home, I found it to be more casual and, perhaps, easier to make it through a flight without laser focus.
Obviously, this isn't black-and-white and I've stated this too absolutely, to make my point. But, bottom-line, I prefer in-person competitions.
The 2021 IBU Open
I drove 335 miles from my home in Chicago to Des Moines, about a 5.5 hour trip. Arriving at Confluence Brewing in time for a judging session on a Thursday evening. Two other out-of-town friends also drove in that day – Ted from St. Louis and Sandy from Indianapolis. What a delight to see them again! That evening, I evaluated a flight of six beers, on a table described as Pale European Beers.
On Friday, I judged at two sessions and then two more on Saturday. After one of my assigned flights, the competition organizer asked if I could help out on another table, evaluating NEIPAs. That table included too many entries, so I and another judge helped with four of the entries.
All the flights I had were reasonably sized, so it appeared they had a nice ratio of judges to entries. The competition director, Zach Rice, who did a great job, had limited entries to this first post-pandemic iteration of the competition. Back in the winter and early spring, Zack couldn't know how quickly vaccination would happen and its impact on the number of judges who would volunteer. Thankfully, the vaccine became widely available before the competition, leading to a good turnout of judges and stewards.
Slide Scoresheets, Medal Rounds and Best of Show
Two interesting aspects of the organization of this competition: 1) the use of the 'slider' scoresheets and 2) having the medal rounds (sometimes called mini-bos) for each category determined by a different set of judges than those who evaluated the beers.
I like the slider scoresheets, But, it also feels like it's been a long time since I filled out a traditional, long-form scoresheet. Honestly, I'm kind of looking forward to doing that again! The medal round issue seems a little more complex. Good reasons exist to organize a competition this way, but you also lose something. Specifically, the competition loses the benefit of judges calibrating their palates to a style.
For the Best of Show round, five of us comprised the panel, including two brewers from our host brewery, Confluence. The organizer presented us excellent gold-medal-winning beers. In the end, we selected an American Strong made with rye as the Best of Show beer. Entered in the Alternative Grain category, this beer delighted us! If you'd like to brew an American Strong, search for recipes here.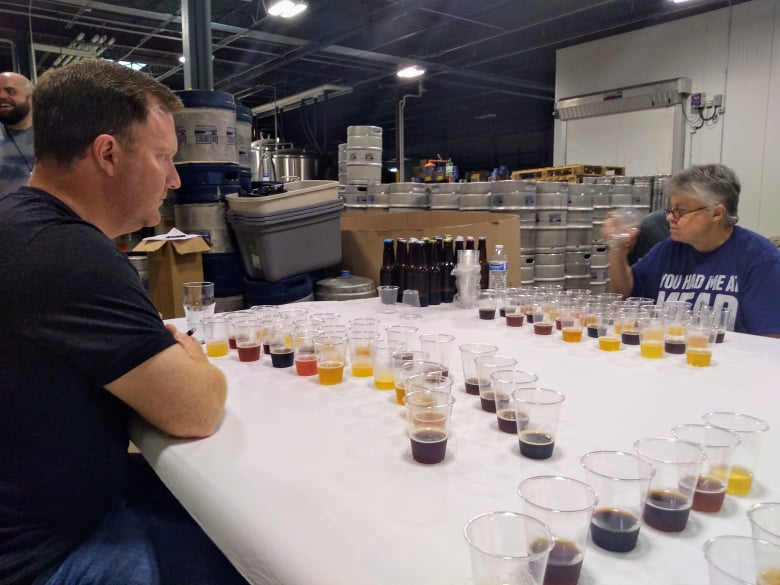 Confluence Brewing Company
The competition was held in the packaging area of Confluence Brewing Company on the southside of Des Moines. Founded by John Martin – who joined us at the Best of Show along with Confluence's production manager, Josh Maxon – Confluence boasts a fun taproom and a large taplist, with over thirty beers available. I enjoyed their version of a Czech Pilsner, called Over the Ivy. Coming in at less than 5% abv, I thought this beer made a great post-judging beer.
The taproom boasts both indoor and outdoor spaces and service at the bar. With no no kitchen, the brewery hosts occasional food trucks and patrons may bring in dinner from other restaurants.
The Iowa Brewers Union
The Iowa Brewer's Union, a homebrew club based in Des Moines, annually organizes the IBU Open. The club meets every third Monday of the month. Besides the annual competition, the club also supports charities and events across the states. According to their Facebook page, the club also runs its own homebrew serving night (Jimmy Carter Happy Hour) at its meeting location, El Bait Shop. On Thursday nights, at the Jimmy Carter Happy Hour, IBU members use the club jockey boxes to serve customers samples of their own local home brew.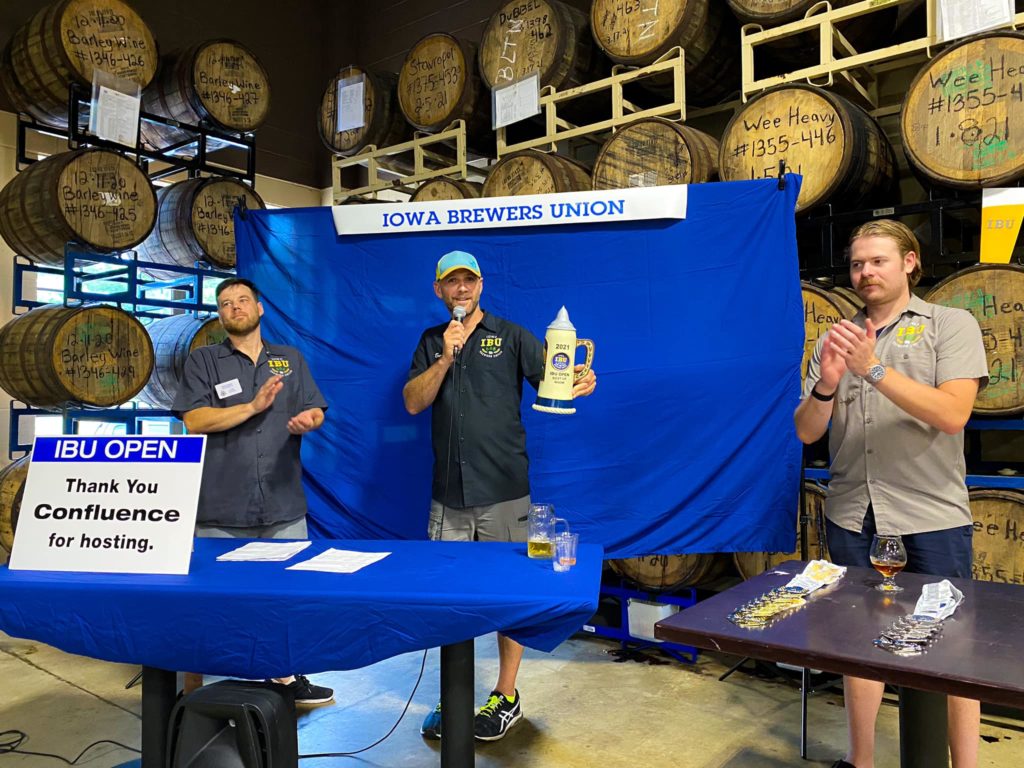 I hope, in this post-pandemic world, you share my joy at getting back to homebrewing not just as something you do at home, as an individual, but as a hobby, something you enjoy with a great community of other homebrewers.