Leah Dienes of Apocalypse Brew Works
Friday, August 6th, 2021
Brewing a Smoked Hefeweizen
Pro Brewer Series
By JIm Vondracek
Many homebrewers dream of turning their avocation into a vocation – becoming a professional brewer. This series on Pro Brewers will introduce a professional brewer, briefly exploring their path and journey. Then, each article will delve into their current brewery and situation, and share a favorite recipe that homebrewers can try.
I first met Leah Dienes at the Homebrew Con in Grand Rapids, Michigan. Before the conference, the BJCP held a session on the Kentucky Common style, and Leah helped lead the session and also served some samples of this home-grown style. In the session, her seriousness and depth of brewing knowledge struck me immediately.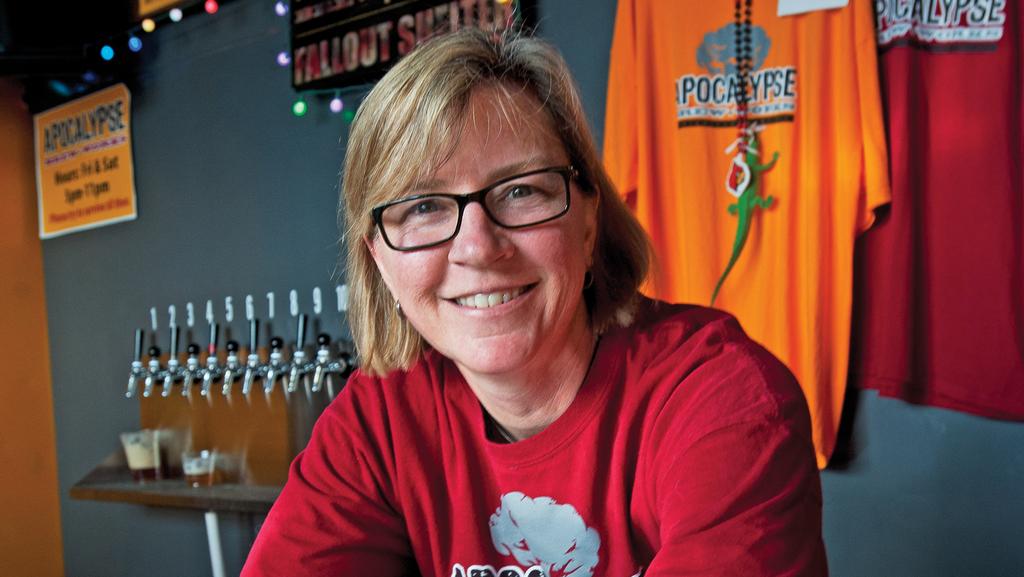 In some ways, Leah followed a typical path to her current position as co-owner and brewer at Apocalypse Brew Works in Louisville, Kentucky. But it also took a few unique turns.
Hobbyist Beginnings
From the beginning, creative endeavors held Leah's interest. She studied music at the University of Louisville and Boston University, before pivoting to graphic design at Northeastern University. Afterwards, she returned to Louisville and worked in that field, including at Fearless Designs.
But while that was all happening, Leah expanded her creative reach by exploring homebrewing. Like many homebrewers, her homebrewing took off when she connected with a local homebrew club. In her case, she joined LAGERS, the Louisville Area Grain and Extract Research Society, founded in 1989.
Through LAGERS, she benefited from the tutelage of Darwin 'Dibbs' Harting and other experienced brewers who gave feedback on her beers and shared brewing insights. Eventually, she served as the club's president. Most importantly, she began a friendship with Bill Krauth, another LAGERS member, with whom she would later form a partnership that begat Apocalypse Brew Works.
Winning Medals
Imbued with a meticulous nature, Leah kept detailed brew logs and honed her homebrewing expertise. Soon, she began earning medals at homebrew competitions. Lots of them.
At one competition, where she was volunteering, BJCP president emeritus Gordon Strong tasted one of her gold medal winning beer. He took her aside and urged her to go through the BJCP process. She took the advice and earned the rank of National judge and currently serves as an assistant representative for the Midwest region in the BJCP.
Making the Transition to Pro Brewer
As she continued homebrewing, Leah's career in design became less fulfilling. It hit a significant bump when the economy tanked in the late 2000s, during what came to be called the Great Recession, and the slow recovery that followed. She began exploring the possibility of making the transition to professional brewing and secured an internship at Bluegrass Brewing Company. And she and Bill Krauth started planning what became Apocalypse Brew Works.
Opening a brewery presents many challenges, including capital – money. Leah and Bill faced this obstacle and met it using sweat equity and the tools at their disposal. Leah, in addition to her brewing expertise, brought design and marketing experience. Bill owned a heating, air conditioning and plumbing business, and had the expertise to construct much of the equipment they needed.
Building a Brewery
Bill also owned his business' building, so they didn't need to buy or lease space. Together, they built out the brewhouse and taproom, which opened in 2012. To save on costs and to act on their commitment to sustainability, they made liberal re-use of found objects and equipment used in the build out.
Staffing also followed the same model, they did it all – brewing, marketing, sales, social media and bartending. In recent years, as the brand grew, they hired some help, and after a contraction during the pandemic, continue to responsibly build. Recently, Bill retired and sold his interest in the brewery.
Still on the job, other 'staff' helping out since the start include feral brewery cats working to keep the rodentia population out of the place. They've become less feral over the years, and you can view a video of them getting groomed here. In addition to visiting the cats, people come to the taproom for a wide-range of programs, including yoga, pop-up markets, outdoor movies, food trucks and live music.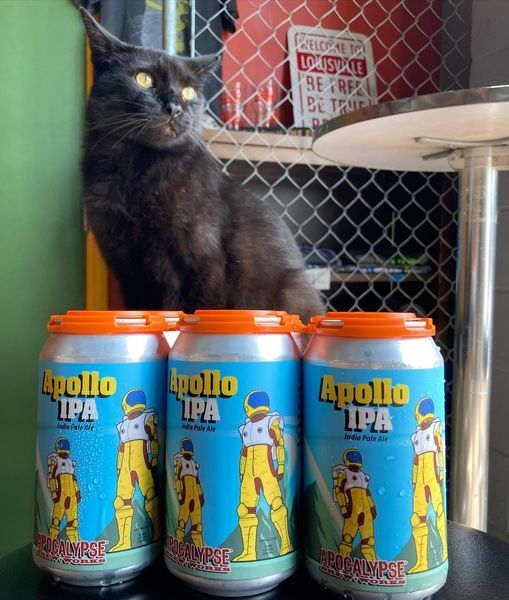 The Apocalypse theme plays throughout the brewery, including the taproom, named "The Fallout Shelter". Their slogan, "Drink Beer Til the End", and their beer names (Cream-ation, Fallout Dust, Pestilence Porter, Atomic Amber, etc.) carry on the theme. The setting is industrial and, while not dystopian, seems appropriate!
Award Winning Smoked Weizen Recipe
Leah agreed to share with us a recipe that she first brewed in 1989, according to her early beer logs – a smoked weizen. It began as a recreation of a smoked Hefeweisen she enjoyed in Bamburg, Germany. It won medals, including the President's Choice Award in FOSSILS' Smoked Beer Competition.
You may find the recipe in Brewer's Friend here. Be sure to read the description for a full explanation of her process. Prost!