Improved Calculations for First Wort Hopping
Thursday, April 20th, 2017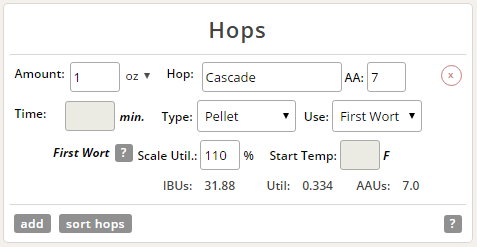 We've heard lots of feedback on the way Brewer's Friend deals with First Wort Hops and today we're rolling out some updates to the Recipe Builder, offering better calculations for First Wort additions.  For details on what First Wort Hopping (FWH) is, check out our FAQ and original blog post here:
https://www.brewersfriend.com/faq/#firstworthops
https://www.brewersfriend.com/2009/05/09/first-wort-hopping/
How did it work before?
Prior to these changes, we calculated FWH additions as if they were regular boil hops with a duration of 20 minutes.  This was due to subjective reports of the bittering contribution from FWH resembling a 20 minute hop addition.  This doesn't really capture the essence of what's happening with first wort additions, since the hops contribute bitterness both during the pre-boil time as well as during the entire boil.
The New Method
To fix this, we're changing the way these additions figure into overall bitterness.  Instead of a fixed time duration, FWH additions now are included for the entire boil duration (based on what's entered for boil time in each recipe), and are given a percentage boost in utilization to account for the additional time spent steeping before the boil.  Typically this factor is an additional 10% boost over a regular boil hop, but this value can be customized based on individual findings.  Now, when you select "First Wort" in the "Use" field on the recipe builder, you'll notice that there's now a "Scale Util." field, which holds the overall utilization multiplier.  That means if you want to boost the FWH utilization by 10%, you'd enter 110% in this field.  If you think the additional contribution is more like 20%, you'd enter 120%.  And if you think a first wort hop behaves exactly like a boil hop for the duration of the boil, you'd just enter 100%.
What about existing recipes?
We know there are thousands of recipes that have been built on the previous FWH functionality.  And we know how seriously we rely on our recipe metrics to remain stable and predictable as we brew, rebrew, and experiment.  To that end, we're taking every existing recipe with a FWH addition and we're calculating the utilization scalar that results in no IBU/bitterness changes.  So when you open those recipes, you'll notice that the stats don't change as a result of this.  If you look under the existing First Wort hops, you'll see that we've filled in a utilization percentage that equates to the IBU numbers you had previously.  If you want to adopt the new approach for an addition, you can simply change that value to 110% and you'll get the new calculation.  Any new First Wort hops you add will default to the 110% number.
We think these changes will help us all achieve more accurate recipe metrics, use First Wort Hopping more effectively, and ultimately make better beer!  If you run into any problems, bad calculations, or bugs with these changes, please reach out to us:
https://www.brewersfriend.com/feedback-welcome/
Cheers!