June 2013 Updates
Tuesday, June 25th, 2013
We got a lot of good features out this month. Recipes and brews can be organized into folders. On the recipe editor the yeast drop down may be sorted by product id, or by name.  Nine new yeasts were added. We now accept payments with Stripe (in addition to PayPal). The new brewing report page is live.  The recipe labels feature has been updated (thanks for all the great input in the feature request forum). Shared recipes may now be embedded in other web sites with an iframe tag.
Folders for Recipes and Brews:
Recipes and brews can now be organized into folders. It works via drag and drop. See our FAQ about this feature.
Yeast list sortable by product id or name:
On the recipe editor the yeast list may now be sorted by name or by product id. There is a new button to change the sorting, and the default can be set under your brewing profile. The default is to sort by name (the way it has always been).  We feel advanced brewers will appreciate this.
Nine new White Labs yeasts have been added:
Whitbread Ale Yeast – WLP017
Southwold Ale Yeast – WLP025
Premium Bitter Ale Yeast – WLP026
Klassic Ale Yeast – WLP033
Belgian Saison III Yeast – WLP585
German Lager X Yeast – WLP835
Copenhagen Lager Yeast – WLP850
Munich Helles Yeast – WLP860
HP Lager Yeast – WLP925
Now accepting payments with Stripe:
Stripe is a secure and easy to use payment option now available on the upgrade page.  Stripe has far fewer steps than the PayPal checkout. Stripe also has the convenience of not requiring a 'stripe account'. We are still accepting payments via PayPal.
For current premium members, you may now upgrade to a lifetime subscription and get a discount based on remaining time left! See our upgrade page for details (requires login).
Brewing Report Page
For those of you using the brew feature, a brewing report is now available that summarizes brew sessions, ingredients, and allows drilling down. FAQ entry is here.
Perfect if you want to plan for next year. I'm buying Amarillo in bulk!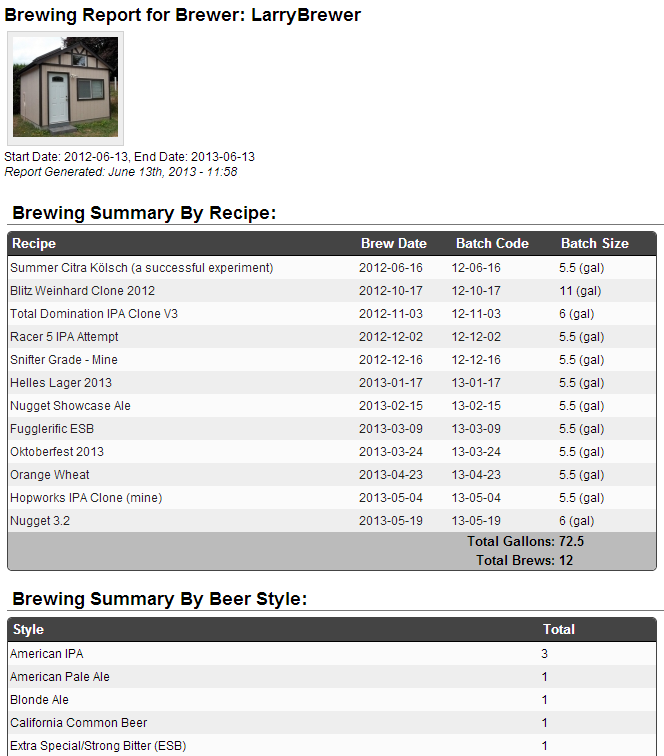 Updates to Recipe Label feature:
As requested in the feature request form – there are three new fields on the Recipe Label page:
Brew Date
Bottle Date
Comments
All fields are overridable. When a field is blank it is not displayed. Removes 'equation' designation (tinseth/rager), which cleans up appearance and makes room for the new fields.
Also, as requested in the Feature Request forum: The link to the 'Label Generator' from Brew Session page sets fields based on the brew's data.

Embeddable Recipes:
For shared recipes, a new embed tag button is available that allows for the recipe to be embedded in another website via an iframe. Any changes to the recipe automatically flow through to your audience. The view count is incremented when someone views the recipe at your site!
Other Updates:
Recipe editor water profiles updated to match those on the Mash Chemistry and Brewing Water Calculator.
For public recipes, a share via Pinterest button has been added next to the Facebook, Twitter, and Google Plus share buttons.