Gerryjo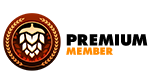 Join Date: 10/28/16
Location: Derry,Northern Ireland
My Brewing:
Started brewing again back in August 2016 after 20+ years.Started with partial/stove top and nowdoing AG on stove top.
My Beers:
Making plenty of mistakes as I go along but still having drinkable beer with the exception of one.
SMaSH Pale ale with Northern Brewer Hops.
Pale ale with Rowan Berry fermented with bakers yeast.(quite tart and bready)
A few other concoctions as I'm currently experimenting with a 25kg bag of Minch Pale Malt Ale.
Onwards and upwards.
3

Brewing Contributions for

"2022"

Includes Recipes, Brew Sessions, Inventory, Brew Logs and Tank Logs