Buzz9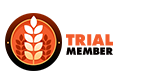 Join Date: 03/27/13
Location: New Hampshire
My Brewing:
I am a small batch brewer - primarily 1 gallon with an occasional 2 gallon on something really tasty. I brew all grain and extract depending on recipe and laziness factor that brew session.

For all grain I mash grain in a fine nylon mesh bag. I use 2 stockpots - one for mash and other for sparge. For sparge I typically remove the bag from mash tun (ie stock pot #1), drain back over a strainer, and the gently dip the bag info the sparge water (stockpot #2) 4 to 5 times. I make sure the bag gets fully absorbed with sparge water before lifting after each dip.

This is a take-off on BIAB but on a smaller scale. The dip sparge is more related to the fact that I only have 7 or 8 qt stockpots won't spend the money on a "real" kettle . I actually picked up this process from some brewer's blog.

Note that I'm also not very scientific about my brewing (no OG readings, etc).


My Beers:
anything and everything - typically ales because lagering is a bit of a pain and I'm not a uber lager fan anyway.
0

Brewing Contributions for

"2023"

Includes Recipes, Brew Sessions, Inventory, Brew Logs and Tank Logs