TMA77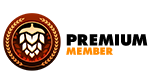 Join Date: 01/25/12
Location: Sydney, Australia
My Brewing:
I'm an experienced All Grain brewer with a custom built home set up.
I like traditional style brewing with a new twist.
All my brewing is generally single infusion mashed, gas fired boil and hop pellets in two or three additions.
I am starting to experiment with keg conditioned (pressure barrel) and natural lagering (no added CO2 or priming sugars.
My Beers:
Traditional Australian styles without white sugars!
English bitter and brown.
Belgian pale, Wit and Dubels.
Bavarian Lager - especially Franconian styles.
22

Brewing Contributions for

"2021"

Includes Recipes, Brew Sessions, Inventory, Brew Logs and Tank Logs