Member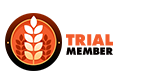 Joined

Oct 3, 2018
Messages

50
Reaction score

12
Points

8
G'day brewers,
I've got a head-scratcher here.
I do all-grain BIAB and I've noticed ever since bulk priming with dextrose (using the calc on this site) all my brews are on the flat side. Some background on how I roll:
I mostly do pale ales, wheat beers, stouts
My recipes are scaled to 15 L each time
I hit (or close to) my gravity readings
I ferment and carbonate in temp controlled fridge for 14 days each
I rack 14 L into a bottling bucket each time (1 L loss to crud etc)
When I bulk prime I use the BF calc and input these numbers:
Units: Metric
Amount being packaged: 14 L
Volumes of CO2: I'd go 3 or 4 (but there's no diff in the carb level)
Temp of beer: Whatever I fermented at.
I then weight out the corn sugar (dextrose) value it returns i.e. 180 gm, add it to a pot and cover with just enough water then boil for a minute or 2. I pour into bottling bucket then rack my 14 L wort and bottle from that point.
I recently ditched my air lock and use glad wrap, probably not the cause but worth noting.
I've had brews that were still flat 6 weeks after bottling.
Any advice appreciated!!