Lesta80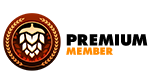 Join Date: 09/01/18
Location: Canada
My Brewing:
Tried it many years ago (extract can and bag of white sugar in early 2000's) and what I made was horrible... But in Newcastle (Aus) around 2016, a mate started extract brewing using dextrose etc and adding hops guided by a local brew store recipe list and I was amazed at the difference, flavours and similarity to the cloned recipes...

Started brewing again myself (I think the ability to go straight to keg helped), quickly moving from extract to BIAB (40 litre Bioko urn) and built my own kegerator!

Had to sell most of my electric gear when we moved to Alberta, Canada in 2018... but quickly bought a gas burner and Spike brewing kettle. When winter hit (as low as -30 degC) I moved indoors, scaled down to 2.5 gallon batches with an induction plate and lots of shiny SS Brewtech gear in the basement.

At March 2019 - I am at 30 brews (in Oz and Canada)... Cheers!!!

6

Brewing Contributions for

"2021"

Includes Recipes, Brew Sessions, Inventory, Brew Logs and Tank Logs