New Member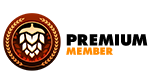 Joined

Apr 3, 2017
Messages

6
Reaction score

0
Points

1
I need to reignite stuck fermentation of my Hard Seltzer now in its primary fermentation.
Followed recipe to the letter, with adding the Minerals pack and yeast nutrients and started with an OG of 1.027.
Two Weeks later I measure gravity at 1.020, and all visible signs of fermentation have stopped.
I have tried adding several teaspoons of yeast nutrient at times, to no avail...
I have been brewing beers for many years now, and have never had a bad batch or brew of anything. However this is my first attempt at a hard seltzer, and I do have many "lessons learned" on how to do correctly next time, should I decide to go another round. But, I would really really hate to trash this one
, and would like to know if anyone can recommend an additive or something to my pri. fermentation to kick this thing in gear?
Any help is appreciated. Thanks in advance.
Last edited: