Member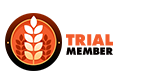 Joined

Sep 20, 2012
Messages

46
Reaction score

0
Points

6
I posted this on another forum with no answers as of yet, so I figgered I'd try over here.
My brother-in-law is a big IPA fan, where I'm not... He's coming to town in November and I wanted to do a quick 1-gallon batch for him, so I snooped around and found a simple extract with steeping grains recipe and attempted to scale it down using the tools on the site where I found it. Long story short, the scaling tool was crap, so I ran it past someone at my LHBS, and he came up with this:
2.5 oz American Crystal 20L
3 oz Carapils
2 lb LME
1 oz Cascade (pellet, flavor/aroma)
1 oz Chinook (pellet, bittering)
1 pkt Munton's Dry Ale Yeast
The original recipe showed an OG of 1.071 and an FG of 1.014, though I know with the tweaking we're gonna see something totally different.
I've admittedly never done a small batch like this, so I need to figure out two key things:
the hop schedule
and
the starting water volume.
:mrgreen:
So I'm flying by the seat of my pants here. Anyone care to share how they would proceed given the what I have to work with? :roll: