Active Member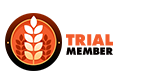 Joined

Mar 29, 2019
Messages

102
Reaction score

45
Points

28
So I finally got around to bottling this oatmeal stout:
https://www.brewersfriend.com/homebrew/recipe/view/920489/oatmeal-stout
It really should be called a coffee oatmeal stout - very neat flavour with chocolate and coffee notes, but let's see when it carbonates. It's also going to be my last brew without a proper mashtun and fridge so I'm looking forward to the next.
Here's the question:
OG was 1072 and FG was 1032. I'm off a bit from what was expected from the recipe calculations. My alcohol looks to be a respectable 5.25%. I know my brew wasn't very efficient. But am I correct in saying that the higher FG means that there are residual sugars that weren't fermented? And if so, why do you think? I kept it at 68 for the last few weeks. I didn't have a super active krausen but thought it could have been the smaller batch size making it seem that way. Maybe the yeast was sluggish for some reason - I pitched at 70 I think without checking notes.
Also I cold crashed the carboy in my new beer fridge last night and all looked good when I woke up this morning showing 38F with the probe on the side of the carboy. But then this afternoon I went by and it was showing 25F = YIKES! So I unplugged it and opened the door. I don't think anything froze but it was pretty chilled. When I bottled and took the FG it was pretty cool - definitely drinkable temps! But maybe the FG reading wasn't accurate because to the cool temp.