Well-Known Member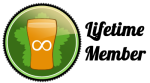 Joined

Jul 16, 2012
Messages

10,254
Reaction score

8,355
Points

113
One feature I'd like to see is to have the recipe builder calculate and display recommended residual alkalinity values (high, low, and midrange) based on the color of the beer being brewed. The formulas are (for American units):

Low: SRM *12.2 - 122.4
High: (SRM - 5.2) * 12.2
Midrange: Low + (High - Low)/2

These formulas are taken from "How to Brew" by John Palmer. His current spreadsheet has taken the SRM-based calculations out and relies on the style to give the values. I prefer to use the values from the actual SRM.