Well-Known Member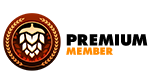 Established Member
Joined

Jul 13, 2012
Messages

1,031
Reaction score

708
Points

113
I just recently brewed an attempt at a clone of vienna malt / mandarina bavaria SMASH IPA, which turned out quite well. Not quite as intense as the original, but still very aromatic and drinkable...at least for the first few weeks after bottle conditioning (2 weeks).
Now it has been ~4 weeks post conditioning, and the aroma has decreased dramatically. The beer is still drinkable, but alcohol is starting to come through a bit too much as the hop aroma is almost completely dissapearing.
Is there any way of keeping the hop aroma around for longer? My aroma addition at the end of the boil (5 min) was about the same amount as what I dry-hopped (3 days), so I am not sure what I could adjust there.
I know my storage at room temperature is far from ideal, but even commercial beers still have a lot more aroma after 6 weeks at room temperature...