New Member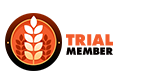 Joined

Feb 17, 2021
Messages

6
Reaction score

10
Points

3
Hello everyone!
I've been brewing for over a year but still consider myself a total newbie! Started with a couple of 1 Gallon all grain kits that I picked up at a discount store, then did a few 5 gallon extracts & partial mashes. Now I pretty much do all BIAB in 5 gallon sizes.
I also brew hard ciders for my wife, put everything in kegs.
Only recently have I started experimenting with doing my own recipes or modifying existing ones, usually in 1 gallon "test" batches so if something goes wrong I'm not tossing a big batch.
Looking forward to learning a lot from those more knowledgeable than I
Cheers.