Member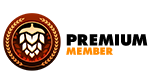 Joined

Mar 13, 2016
Messages

48
Reaction score

14
Points

8
I was sitting home Saturday [first weekend off in a very long time] wanted to brew Sunday so I just cleaned out the bins. Here's the grain bill
12 gallon batch
18# 2 row
2# Vienna
2#rye malt
2#oatmeal
1# crystal 120
Mashed at 155 for 60 min started out with 1.5 Oz ea of chinook and centennial boiled for 90 min then whirlpooled at 170 deg 2.25 Oz chinook,2 Oz amarillo,1.25 Oz centennial and pitched the slurry off a previous batch [ wyeast 1056] and Ive got 3oz ea of amarillo and centennial for dry hop!
What do you guys think? Have I lost my mind or what?