New Member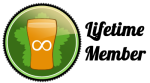 Joined

Jul 16, 2012
Messages

86
Reaction score

1
Points

0
Hey All,

So here is my situation. I made this RIS to be the second beer to go into my 5 gallon oak barrel which was used to age rum previously and had an imperial porter in it as the first beer.

I originally had used wlp1 but it pooped out too soon (from 1.092 to 1.030) so I repitched some wlp99. The 99 fermented the hell out of the beer and brought it from 1.030 to 1.011 which was a bit lower then I wanted but I threw it in the barrel anyways.

There was a small amount of residual booziness in the barrel when I racked it but I took a gravity reading from the racking tube last night as I was transfering it into a keg and it showed that I was at 1.000. This is nuts right? I am thinking I maybe got a bug but I really couldn't detect any off flavors when I tasted it a bit.

I know wlp99 can be a pretty hardy yeast but isn't it pretty impossible to get a beer that low without having something infect it? I have never had a beer finish this low so I am pretty curious. I was also planning on racking a beer into the barrel but probably will not if it is obviously infected...

I double checked my hydrometer was working and it seems to be calibrated correctly. It's possible that it is off by 2 points and the beers at 1.002 but that is still pretty nuts.

Thoughts? Thanks for the help.