Well-Known Member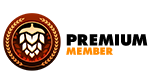 Joined

Sep 21, 2015
Messages

1,039
Reaction score

482
Points

83
Alright, here we go. I heard this style of beer for the first time the other day, it's called adambier. So if i had to put it into terms i think i understand, it's an imperial sour wood-aged hoppy black smoked kolsch. uh. ok. definitely going to make this sometime..

My plan: brew in my normal size i usually do, then add in some mildly boiled LME with it to bump gravity.

4.00# of Munich Light
0.25# Special B
0.25# Smoked Malt
0.50# Flaked Wheat
2oz Carafa 3

All those grains mashed in 10quarts for 90 min, sparge them grains to get my 3 gallon boil size. 60 min boil down to 2.25 gal. Also boil 2.50# LME separately. Cool those down, and add them both to the fermenter.

Questions:
i'm assuming i will need to double pitch a Kolsch strain for such a big bastard of a beer. yes?
Also, how many quarts/gallons does 2.5 pounds of LME take up? I'll being adding whatever that number is to 2.25 gallons of beer. and then probably need to buy a bigger fermenter to account for headspace.