Well-Known Member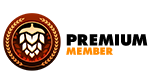 Established Member
Joined

Apr 26, 2021
Messages

1,605
Reaction score

3,214
Points

113
Location
Howdy from Helena Alabama where the water's harder than some rocks.

What I've found, though, is that the high calcium content seems to make for a pretty good surfactant to help separate and settle beer though.

I got into the 'hobby' last year after my step-son gave me a little one gallon batch to try out. I had rotator cuff surgery last year on both shoulders (4 months apart) so have had to have a hobby to keep from driving the missus crazy with my boredom. My latest foray was a 10 gallon batch of Rapier Wit (a Blue Moon knockoff), which I don't mind saying turned out pretty darn good by enhancing the citrus a little bit with a smidgeon of fresh lemon peel to go with the orange. Brought out the citrus over the coriander. YUM! Next batch may be a tangerine twist. Rapier's my go-to because it's so easy and quick to make. It's usually done fermenting in 2 weeks, but I push for 3 just to make sure I'm not making bottle bombs. I seem to have some kind of anomaly in my basement that conditions beer very quickly. Good steady temperature around 67-70 F, and a good dark spot under the stairs to shelve the bottles till time to consume.. I'm usually ready to go with the first bottle in only about 4-5 days, with the peak flavor and fizz happening around 8 days.

I've done a few oatmeal stouts, but haven't quite duplicated the Founders Breakfast Stout yet. That's a goal. I find the higher OG beers tend to be very malty, so I'm thinking I may be underpitching. Still learning on a very steep curve, and most of it lately is about making starters and reusing the yeast for those times when the yeast I want just simply isn't available. Some of them seem to rotate out with seasonal beer choices. Seasons schmeasons. I like a good strong (high ABV) stout with a juicy steak any time of year, and consider IPA's good parts cleaners. I like what I like, and don't particularly care what's fashionable. Once the IBU breaks about 30, I'd just as soon chew on a used Q-Tip. Bitter don't work for me. Don't mind hop aroma or flavoring, just not keen on bitter.

This week I have Hobgoblin (English) Ale, and an all-grain Belgian Blonde Ale (Leffe Abbey) in the fermenters with another 10 gallons of Rapier to follow that up. I found references to re-using yeast here, so decided to join and see what else I can learn. The Hobgoblin should be ready for racking next weekend. Gotta give a shout out to Alabrew in Pelham, AL for their extended recipe list and excellent suggestions. Now that I've learned some of the nuances of bitterness, ABV, aging, and other things, Kim's been most helpful in helping me decide what recipe to try next. I could spend hours in his recipe book, and point blank, I don't mind tasting some of the different brews while I make up my mind what I like or maybe change it about what I like better. He had a most excellent hefeweizen in the fridge when I was there last. That one's on the list when I can get a fridge set up for slow fermenting.