Member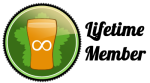 Joined

Sep 11, 2014
Messages

40
Reaction score

0
Points

6
Hi,

I haven't searched so I don't know if this has been suggested before. I realize that when I actually brew a recipe, I can use the mash tab to calculate my strike temp and volume. I also know that the "Quick Water Requirements" gives at least the mash and sparge volumes.

But I really, really want to be able to have the recipe simply include these figures automagically based on the mash thickness variable that I put in. If the recipe "knows" the grain weight and I type in "1.4" for mash thickness, it's a piece of cake to calculate the mash volume. And from there, the strike temp.

I like to have the basic recipe contain this information when I print it. And planning water volumes is an important preparation component of brewing, especially for those of us who buy our brewing water.

Thanks - love the site and prefer it to BeerSmith after trying the latter side by side for the last few brews.