Member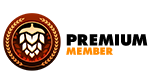 Joined

Jul 16, 2013
Messages

147
Reaction score

1
Points

16
So I was watching a Mythbusters the other night, and they were tasked with finding the quickest way to cool a 6 pack of beer. They did a regular cooler full of ice, a cooler full of ice water and salt, and then a fire extinguisher. After their testing it was determined that a fire extinguisher aimed at the 6 pack could cool it within about 30 seconds, going from room temp to 3X degrees. Obviously not practical, but could work in a pinch. So obviously I am not saying we should cool our wort that way, but it got me thinking about the ice water and salt since it was the second fastest at 5? minutes I think.

So I did a 2.5 gallon boil the other night for my Oktoberfest. I have a large tall cube cooler that I use as the ice bath and typically use cubed ice and water. This time however, I got a block of ice, added a large amount of rock salt, and then added some water. I let that sit for about 20 minutes while finishing my boil. I didn't think about it, but I should have taken a temp reading, but I assume it was very cold. I lowered my kettle into this bath, and topped off with another bag of cubed ice, and then swirl the kettle every 7-8 minutes. This wort cooled the fastest out of any of my batches! Again I should have timed it, but it was definitely faster that previous cool downs. So on my next brew, which will be a full 5 gallon, I will take temp readings of the water before placing the kettle in, and also time it.

Just thought I would let people know so they can try.