Well-Known Member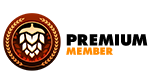 Established Member
Joined

Jul 13, 2012
Messages

1,031
Reaction score

708
Points

113
First, a big thanks to Larry for creating such a great site and making all the Tools free! I have been using the calculators and Recipe Builder for the past 6 months, and didn't even have to think twice about becoming a paid member so I could continue to keep track of my brewing.
My brewing background is pretty limited, and I would definitely still consider myself a complete n00b. I did a fair amount of kit brewing a few years back while living in New Zealand (partly in order to create unusual beers, and partly because it was cheaper than always buying beer at the supermarket), but had to put my brewing activities on hold for a while after moving to Germany.
Finally, at the end of last year, I had time to start up brewing again. Only this time, I have decided to go all grain!
My setup is very basic (25l. electric canner with steel braid in the bottom as a heated mash-tun, a 20l. pot on the kitchen stove for boiling the wort, and 2 plastic carboys as primary and 2ndary fermenters), but I am getting ~65% efficiency with only a single batch sparge and no stuck mashes, so I am fairly satisfied with it for now.
(I did actually have one stuck mash the very first time, but I did so many things wrong with that brew that it doesn't really count...)
I brew on average about once a month, and am working on a good "GPA" (german pale ale) recipe. Being in Germany, I can get great pilsners, black beers, wheat beers, bock beers, etc inexpensively and locally, but I am also a huge fan of properly hoppy IPAs/APAs. They are really hard and/or expensive to get here though. So, I have decided to try brewing my own.
Because of availability and cost, I am currently concentrating on using mostly German ingredients, with yeast being the one exception (using WLP007).
I am sure you will be seeing me posting up under Brewing Questions or Recipes with n00b-ish questions/comments.
Cheers,
Gabe