Well-Known Member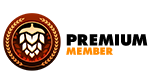 Established Member
Joined

Jul 13, 2012
Messages

1,031
Reaction score

708
Points

113
After another rather warm summer and an unsuccessful attempt at a swamp-cooler, I have finally bought a small refrigerator (used) to keep my fermenter cool. I am planning on using it for the first time for my next brew in 2 weeks, but am debating on whether or not I need to replace the temperature control before hand...

I brew / ferment 25l. at a time, using WLP007, which should be kept at 65-70°F during fermentation. The refrigerator seems to hold ~40°F at the lowest setting and ~60°F at the highest.

For those you who use refrigeration during fermentation and have measured the ambient temperature, based on your experience, do you think I will be able to hold the yeast at ~65°F for the first few days of fermentation?
Or, should I just go ahead and build in an external temp regulator with a probe that I can tape under some insulation on the side of the carboy...?